What to Look for When Buying Car Speakers
Car Speaker Types
There are two main types of car speakers:
Coaxial - These speakers have the tweeter and woofer combined in one unit. The tweeter is mounted in front of the woofer cone. Coaxial speakers are typically easier to install since everything is self-contained, and they take up less space compared to component speakers. They can provide a decent upgrade over factory speakers, but they won't match the performance of true component speakers. I'd recommend coaxials for basic upgrades or replacing worn-out factory speakers.
Component - Component speakers separate the tweeter from the woofer. The tweeter is mounted separately from the woofer cones. This allows you to position the tweeters in optimal spots for better imaging and staging. You can also customize the speaker locations more flexibly. Component sets require more installation work but deliver the highest sound quality. The crossover is also external for finer tuning. Component speakers are best for audio enthusiasts seeking premium sound.
Materials
Polypropylene - Polypropylene is a very rugged, moisture-resistant material that can withstand heat and humidity. It's great for car woofers that will be exposed to the elements. However, polypropylene tends to sound duller and less clear compared to other materials. The bass will be present but not very articulate.
Silk/Synthetic - Synthetic silk or textile tweeters will reproduce the highs and midrange frequencies with superb detail and clarity. The sound will be extremely smooth and transparent. Silk tweeters are ideal for listeners who want crisp, delicate highs without harshness.
Paper - Paper cone woofers have a nice warm sound that emphasizes the mid bass rather than sub-bass. You'll get pleasing roundness and impact for drums and male vocals. Paper also helps tame the harshness of some tweeters. Overall, paper produces a vintage, lively sound.
Installation
First, determine if you can install the new speakers yourself or want to hire a professional. Some steps like running new speaker wires or custom fabrication may require pro help. Make sure your budget allows for installation costs if needed.
Also decide if you want to keep the factory speaker locations or do custom work. Using factory spots is easier but custom fabrication can optimize the imaging and stage. Similarly, coaxials will be simpler to install while components offer more flexibility.
Frequency Range
For balanced sound, you want speakers that cover the full frequency spectrum:
Tweeter - A good tweeter should play from 2,000 Hz up to around 20,000 Hz. This reproduces the upper vocal harmonics through the airy highs.
Midrange - The ideal midrange is 300 Hz to about 5,000 Hz. This covers fundamentals of vocals, drums and instruments for a clear sound.
Woofer - A woofer should extend down to at least 100 Hz for full bass, or even down to 50 Hz for sub-bass impact. The low end should blend seamlessly with the midrange.
Choose speakers that combine to give you solid coverage of the entire frequency range.
Sensitivity
Speaker sensitivity indicates how loudly the speaker will play with a given power input. It's measured in dB at 1 watt/1 meter. Look for these general sensitivity ratings:
Tweeters - 90 dB or higher sensitivity allows the tweeter to play loudly even with less power. This prevents the highs from sounding weak.
Woofers - Midbass woofers will be in the 85-95 dB range. Higher sensitivity gives you more volume potential.
Higher sensitivity speakers will play louder at the same power level compared to less sensitive ones. This gives your system headroom.
Power Handling
The power handling indicates the maximum wattage the speaker can handle before potential damage. Match this closely to your head unit or amp:
Head Unit - Factory head units typically provide 10-50 watts RMS per channel. Aftermarket units may go up to 100 watts RMS.
Amplifier - Subwoofer amps can drive 150-300 watts RMS into a 4 ohm sub. Other amps may drive 75-150 watts into speakers.
If the power rating is too low, the speakers can distort or blow. If it's too high, you won't get full performance.
RMS vs Peak Power
RMS (root mean square) power handling represents the continuous, long-term power the speaker can handle. Peak power is maximum instantaneous power. Always match the RMS ratings as peak power can be misleading. Provide plenty of headroom over the RMS rating.
Brands
Stick with reputable brands that specialize in car audio. Top companies include JBL, Kicker, Rockford Fosgate, Alpine, Infinity, etc. You'll get better quality and reliability.
Budget
$50-150 - This range gets you decent coaxial speakers for basic upgrades.
$150-300 - Here you can get high-end component sets from respected brands.
$300+ - For the ultimate sound quality, look into premium components, subs, and amps.
Set a realistic budget then get the best gear available for the money. Quality sound costs, but it's worth it!
Best Speakers For Car In 2023
Rockford Fosgate R165X3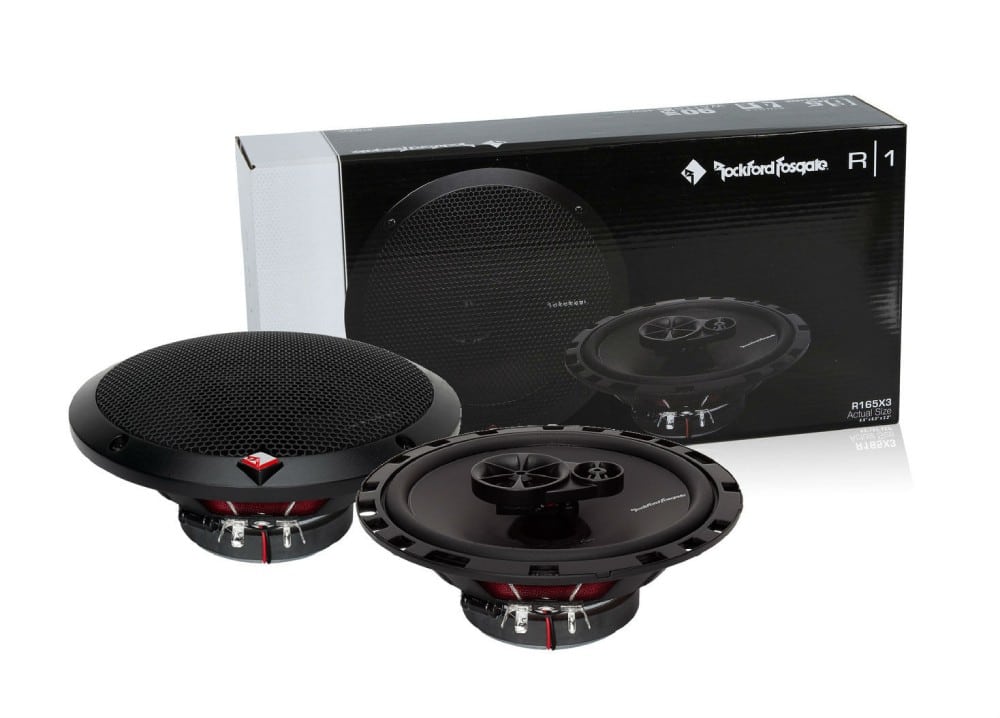 Pros
Delivers excellent audio performance across all frequency ranges.
Perfectly compatible with both factory-installed and aftermarket stereo systems.
Offers easy installation with a wide variety of size options.
Boasts durable construction and robust build quality.
Cons
To achieve optimal sound quality, pairing with an amplifier is recommended.
When seeking the perfect balance of sound quality, durability, and value for money, the Rockford Fosgate R165X3 speakers are a fantastic choice. They offer unparalleled versatility, fitting a wide array of both factory and aftermarket applications.
The Rockford Fosgate R165X3 is a three-way coaxial stereo speaker system with a 6.5-inch diameter and a mounting depth of 2.15 inches. Rated at 45 watts RMS, they can handle up to 90 watts of peak power, which is sufficient for most factory stereos. They come in an array of sizes, are well-constructed, and offer straightforward installation, catering to varying user requirements and car models.
These speakers feature robust polypropylene cones and a mid-range loudspeaker driver, which collectively provide exceptional sound clarity. The silk dome Piezo tweeter enhances the sound quality further, delivering crisp high frequencies. The 4.0-ohm impedance, which is quite standard for car speakers, ensures reliable performance.
What sets the Rockford Fosgate R165X3 apart is its advanced features typically found in more premium offerings. The speakers are equipped with a durable rubber surround, enhancing their longevity. Furthermore, they incorporate a high-pass (HP) tweeter crossover, a characteristic often seen in component speakers. This technology allows the speakers to separate low and high frequencies, resulting in a superior level of audio quality.
However, it's worth noting that to maximize the performance of these speakers, they should ideally be paired with a head unit or amplifier that can provide power close to their 45 watts RMS rating. While they deliver good sound quality with low-powered factory head units, the best results are achieved with a more powerful audio source.
There might be pricier speakers on the market that offer higher sound quality, but the Rockford Fosgate R165X3 strikes a balance few can match. They provide an excellent blend of high-quality sound output, durable construction, and reasonable pricing, making them a compelling choice for any car audio upgrade.
Pyle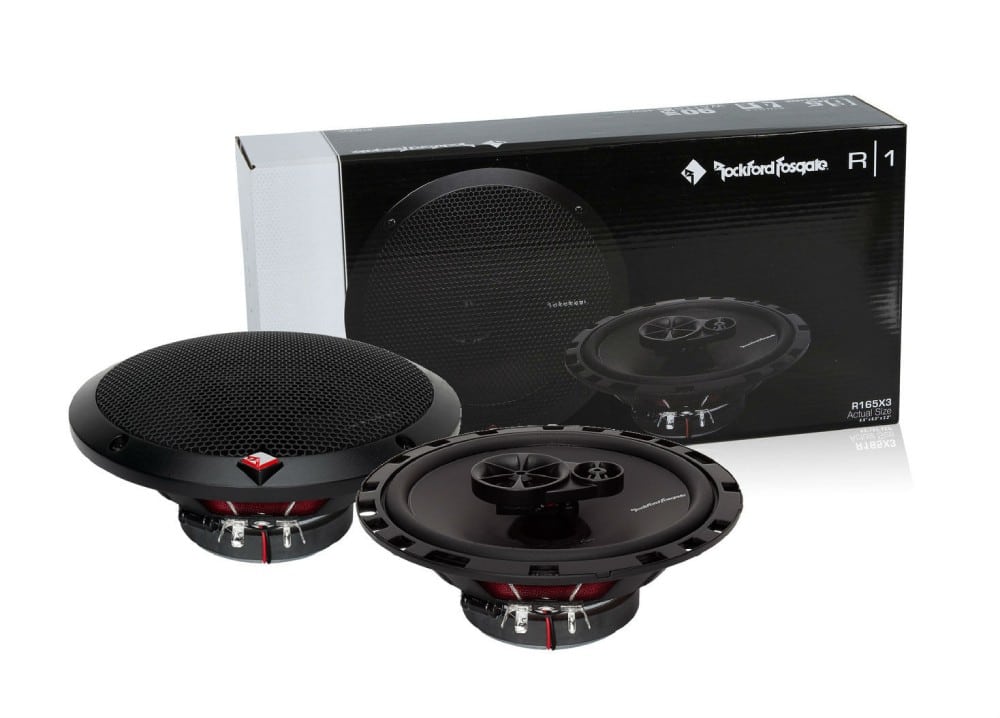 Pros
Delivers comprehensive, detailed, and smooth sound.
Features a high-quality voice coil for extended playtime.
ASV voice coil is designed to withstand high temperatures effectively.
Offers an impressive peak power output of 360 watts.
Comes with a blue poly injection cone for optimal stiffness without additional weight.
Cons
Durability could be improved.
The Pyle 6.5" car speaker system offers remarkable value at an affordable price point. Featuring a triaxial speaker setup, it can generate up to 360 watts of peak power, courtesy of its 20-ounce magnet structure. This speaker system is capable of delivering a comprehensive range of sound, adeptly covering both the high and low ends.
The Pyle Three-Way Sound Speaker System comes equipped with a 6.5-inch woofer, ensuring impressive audio output. It utilizes a blue poly injection cone, which delivers the necessary stiffness without adding extra weight. Furthermore, the system features an ASV voice coil, designed to handle high temperatures with ease.
One of the standout features of this speaker system is the midrange tweeter, offering a blend of smooth, detailed, and robust sound. The system's voice coils are sturdy enough to handle prolonged playtimes without any increase in weight. Moreover, the Pyle speaker system comes complete with grilles, mounting hardware, and wires, letting you maximize the potential of its impressive 360-watt output.
However, there are a couple of downsides to the Pyle speaker system. The system's plastic parts are somewhat fragile, requiring careful handling. Also, some users reported durability issues, with the speaker system lasting only around a year.
Pioneer TS-F1634R - Best heap car speakers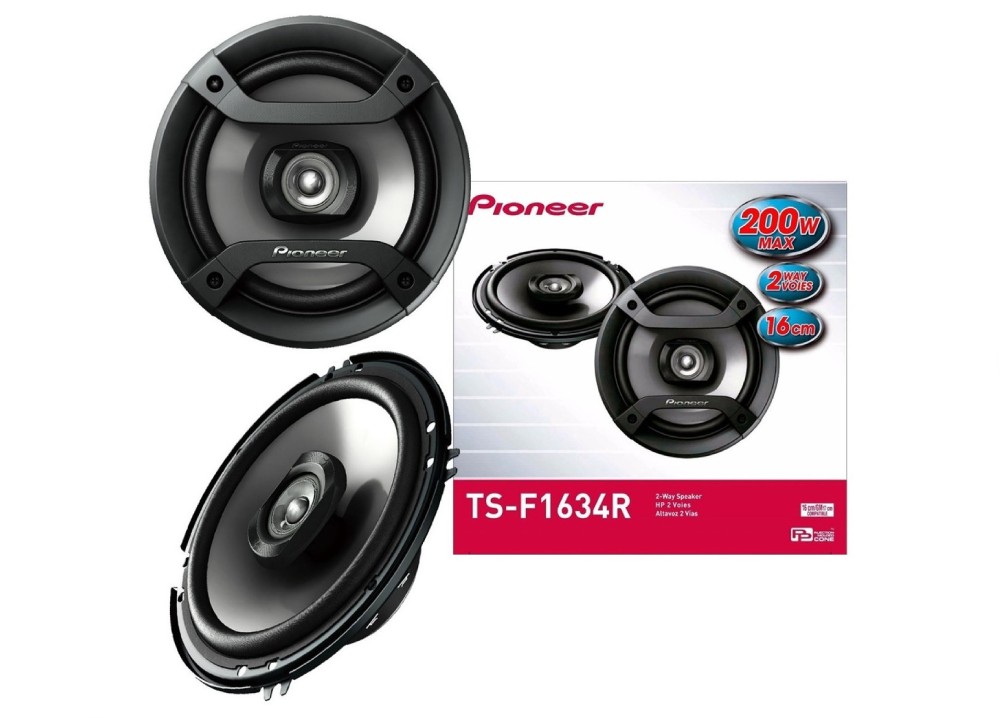 Pros
Exceptional value for money.
Superior sound quality with an injection-molded polypropylene composite woofer cone.
Wide frequency response for clear and detailed sound.
Easy installation process.
Cons
Some users have reported that the speakers do not deliver the listed maximum power.
Awarded as the Best Value car speakers by our expert team, the Pioneer TS-F1634R provides a cost-effective two-way speaker system without compromising on quality. These car speakers stand out with their injection-molded polypropylene (IMPP) composite woofer cone and film-balanced dome tweeters, offering superior sound reproduction.
When it comes to power handling, the Pioneer TS-F1634R performs impressively, boasting a peak power of 200.0 watts and 25.0 watts RMS. These aftermarket speakers maintain a wide frequency response ranging from 30.0 to 28,000.0 Hz and demonstrate a sensitivity level of 90.0 dB, ensuring clear and detailed audio playback.
With a diameter of 6.5 inches, these speakers are compact yet powerful. What sets them apart is the injection-molded polypropylene composite woofer cone, which significantly enhances the bass, adding a punchy undertone to your music. Given its remarkable features, the product's price tag of $26 is truly unbeatable, making it one of the best deals for car speakers available online.
Customer reviews frequently highlight the excellent value for money that the Pioneer TS-F1634R provides. Users have also appreciated the simplicity of the installation process, with many noting these speakers as a significant upgrade from the original OEM speakers in their vehicles. However, it's worth mentioning that some users have reported that the speakers don't deliver the listed maximum power, despite it being stated in the product description.
Kicker 43DSC504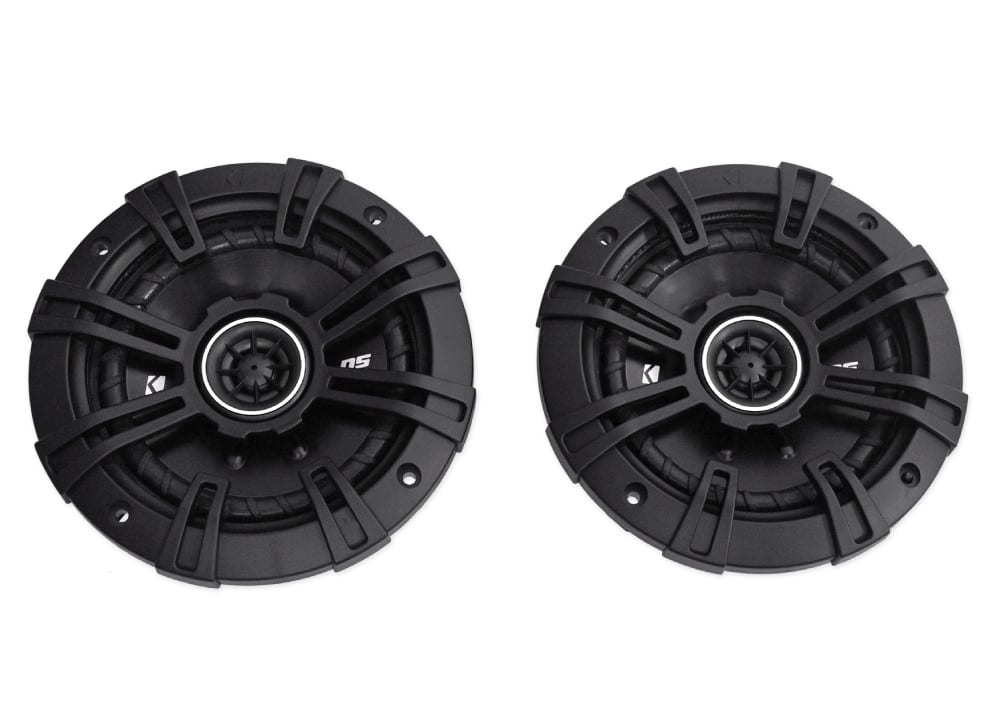 Pros
High power output guarantees superior bass and surround sound.
UV-treated, rigid polypropylene cones and acoustic foam enhance sound quality.
Slim design ensures a perfect fit in factory speaker locations.
Seamless compatibility with factory radios.
Impressive 200 watts Max each.
Fitted with extended voice call tech that works well with the factory radio.
Cons
May not deliver high-quality, heavy bass.
Worried about finding bass-boosted speakers that perfectly fit in your car as replacements for factory speakers? Put your worries aside with the Kicker 43DSC504 D-Series Coaxial Speakers. These speakers, each delivering a powerful 200 watts at peak and 50 watts RMS, promise to immerse your car in superior bass and surround sound.
The Kicker D-Series is engineered with rigid polypropylene cone material and polyester foam speaker surrounds to ensure optimal performance. Furthermore, the cones are UV-treated and wrapped in acoustic foam, enhancing the bass and sound quality that these speakers can deliver.
The D-Series speakers are an ideal upgrade for your car doors. Their slim design makes them fit perfectly in the spaces occupied by your factory speakers. The speakers also feature a stamped steel framework, blending extended voice coil technology with the cone and surround to deliver top-notch sound. They are also fully compatible with factory radios, ensuring seamless integration.
However, it's worth noting that the Kicker D-Series speakers may not satisfy those seeking heavy, high-quality bass. Nevertheless, they are an excellent option for those seeking an upgrade from their factory speakers without being overly particular about sound nuances.
How do I choose the best car speakers?
Upgrading your car speakers can significantly enhance your driving experience. However, it's crucial to consider a few key factors before making your purchase to ensure you choose the best speakers for your needs.
Type of Speakers

There are two primary types of speakers you might consider: full-range (coaxial) speakers and component speakers.

Full-range speakers contain all speaker elements in one unit, including a woofer for low-frequency sounds and a tweeter mounted onto the woofer to produce high-frequency sounds. These speakers are typically more straightforward to install and can be more cost-effective.

Component speakers, on the other hand, separate the tweeter and woofer, along with including an external crossover. This configuration results in higher sound quality as each component is designed to produce its specific range of sounds. However, these systems can be more complex to install and often come at a higher price.

Size and Location

The size of the speakers you choose will depend largely on the locations you're planning to install them in your vehicle. Standard speaker sizes range from 3.5 inches to 6 x 9 inches, and you'll want to ensure your chosen speakers will fit in the factory speaker locations unless you plan on custom installation. Some vehicles may have multiple locations for speakers, allowing you to add more speakers for a surround sound effect.

Compatibility with Your Car

In addition to size, you'll want to ensure that the speakers you choose are compatible with your vehicle. This compatibility goes beyond physical dimensions - you should also consider the power output of your car's stereo system to ensure it matches with your chosen speakers' power handling capabilities.

Power Handling

Understanding a speaker's power handling capability is crucial. This specification is usually given as RMS (Root Mean Square) and peak power. RMS refers to the amount of continuous power a speaker can handle, while peak power refers to the maximum power a speaker can handle in short bursts. Matching your speakers' power handling to your car's stereo output will provide optimal performance.

Sensitivity

The sensitivity of a speaker measures how loud the speakers will be for a given power input. If your car stereo is low-powered (15 watts RMS per channel or less), speakers with high sensitivity ratings (over 90 dB) will be a better match. Conversely, if your car stereo is high-powered, you should consider speakers with lower sensitivity ratings.

Material Quality

The material of both the woofer and tweeter can significantly affect the sound quality, durability, and price of the speakers. Woofer materials should be stiff yet lightweight, with materials like polypropylene mixed with metal-coated synthetic blends being common. Tweeters often use softer materials like silk, textile blends, or hard materials like metal, ceramics, or graphite, each providing different sound qualities.

Brand Reputation

Brand reputation matters. Top brands such as Pioneer, Rockford Fosgate, and Kicker, have established a reputation for delivering high-quality products consistently. Reading customer reviews, professional critiques, and researching the brand's history can provide insights into the quality and reliability of their products.

Price

Lastly, consider your budget. While it might be tempting to buy the most expensive speakers, remember that cost doesn't always equate to quality. There are plenty of affordable speakers on the market that deliver excellent sound quality.
Conclusion
Selecting the best car speakers can be a daunting task given the multitude of options available in the market. However, with the right knowledge, you can easily pick the best fit for your vehicle. Always consider factors such as speaker type, size and location, compatibility, power handling, sensitivity, material quality, brand reputation, and price when making your choice.
From the Rockford Fosgate R165X3 with its superior sound quality and durability, the value-packed Pioneer TS-F1634R, the high-performing JBL GTO609C, to the budget-friendly yet high-quality Kicker 43DSC504 D-Series, we've covered a range of speakers that cater to various needs and budgets. Each of these speakers stands out in its unique way, offering something special to enhance your car's audio system.
Remember, the best car speakers are not just about the loudest volume or the deepest bass. It's about finding a speaker system that enhances your driving experience, allowing you to enjoy your favorite music in the best possible way. Whether you're a casual listener or a hardcore audiophile, there's a set of car speakers out there that will meet your needs perfectly.
So, take your time, do your research, consider the points discussed, and you'll be well on your way to a significantly improved audio experience in your car. Happy listening!