Whether you're looking to upgrade the sound system in your car or replace blown-out factory speakers, finding the right 4×6 speakers can make a huge difference in your in-car audio experience.
With so many options on the market, it can be tough to determine which 4×6 car speakers will give you the best bang for your buck. In this post, we'll cut through the noise and highlight our picks for the top 4×6 speakers that deliver stellar sound quality, durability, and value in 2023.
These speakers are designed to fit into the factory speaker locations of many vehicles, making them a convenient and easy upgrade option. But with so many different 4×6 speakers on the market, how do you know which ones are the best?
We'll cover the top brands and models, as well as the key features and benefits of each. Whether you're a music lover or just looking to improve your car's sound quality, this post has everything you need to know.
When installing new 4×6 speakers in your car, you want crisp highs, accurate mids, and deep bass – not tinny, distorted sound. The good news is that technological innovations in car audio have led to high-quality component systems that can dramatically improve the audio performance of even basic factory stereos.
We've identified the 4×6 speakers that scored top marks by delivering next-level features like multi-layer ceramic dome tweeters for smooth treble, rigid polypropylene woofer cones for accurate mid-range, and butyl rubber surrounds for tight bass response.
What are 4x6 car speakers?
4x6 speakers are small, oval-shaped car speakers designed to fit into the standard 4x6 inch openings in vehicle doors and rear decks. They are an extremely common replacement speaker size, especially for basic factory audio upgrades.
4x6 speakers consist of a speaker driver mounted in a frame basket. They come in two main configurations:
Coaxial - The most common type. Coaxial 4x6 speakers have a woofer for lower frequencies and a tweeter for higher frequencies combined in one speaker unit. This allows for a full range sound from one compact speaker.
Component - These separate the woofer and tweeter into different housings for more mounting flexibility. Component systems allow placing the tweeter higher in the car for better high frequency response. The tradeoff is a more complex installation.
No matter the configuration, 4x6 speakers range in sound quality and power handling. Better speakers use stiffer, lightweight speaker cones, durable tweeters and surround materials, and have higher wattage capabilities. High-end component sets provide even greater audio performance.
Types of 4×6 Speakers
Before you decide on the best 4×6 speakers, it's important to understand the different types that are available.
Coaxial Speakers - These are the most common type of 4x6 car speakers. They have a woofer and a tweeter mounted on the same axis, making them easy to install and use.
Component Speakers - These speakers have separate woofers and tweeters, which are mounted separately. They offer better sound quality and are more expensive than coaxial speakers.
Full-Range Speakers - These speakers have a single driver that reproduces the entire frequency range. They are less expensive than component speakers and are easy to install.
2-Way Speakers - These speakers have a woofer and a tweeter, which are mounted on the same axis. They are designed to handle mid-range and high-frequency sounds.
3-Way Speakers - These speakers have a woofer, a mid-range driver, and a tweeter. They are designed to handle a wider range of frequencies and offer better sound quality than 2-way speakers.
4-Way Speakers - These speakers have a woofer, a mid-range driver, a tweeter, and a super tweeter. They are designed to handle a wider range of frequencies and offer the best sound quality among all the types of 4x6 car speakers.
Best 4x6 speakers on the market in 2023
Now that you know what to look for in the best 4x6 speakers, here are some of the top-rated models on the market right now.
Rockford Fosgate P1462 - Best 2-Way Component Speaker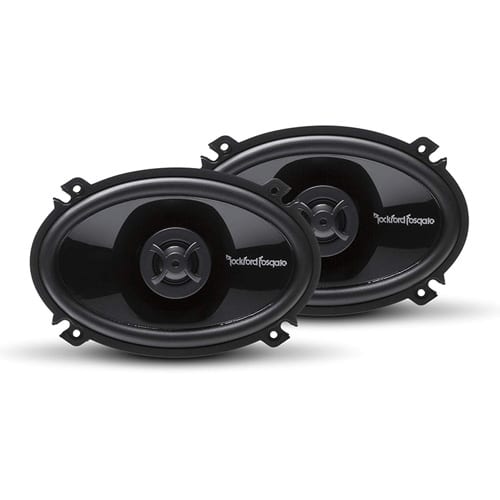 Pros
1-year full warranty included.
Excellent bass response due to the FlexFit basket design.
The polypropylene-injected cone gives better sound clarity.
The integrated crossover gives better control over the frequency transitions.
The mounting depth of 1.89" is quite shallow, which is great for fitting.
Cons
No amp but it can be fitted separately
Reviewers says that it's not as long-lasting as expected
Has splicing wire which needs to be soldered
This speaker packs a punch of 2-way full range and delivers some serious sound. It has a Flexbit basket which is strong and durable with a frequency response range of 45 Hz to 21 kHz. The PEI dome tweeter is powerful and provides great sound clarity. The 4-ohm impedance makes it easier for the speaker to be compatible with other audio components.
For a price point of about 50 bucks, you get a great 2-way component speaker. It has a loud and clear sound with good bass response, and this makes it a great option for those who want to upgrade their car audio system.
JBL Club 6420 - Best Coaxial Car Speakers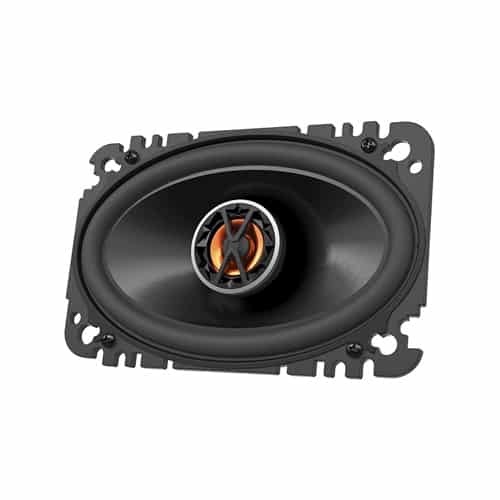 Pros
This model features a power handling of 70W RMS and 105W peak, which is great for a 4x6 speaker.
The sensitivity is quite decent with a 91 dB rating.
It's an all-rounder and gives you decent sound quality in both music and movies.
The price point is quite affordable.
Cons
The sound can get distorted at high volume levels. Not the best option if you're looking for a great bass response.
The model could use more power-handling capabilities.
The JBL Club 6420 speakers are some of the best on the market. They offer excellent sound quality and power handling capabilities with a peak power of 320 watts. These speakers have a frequency response range from 45 Hz to 20kHz, so you can hear all the details in your music. They also feature a two-way design that includes a woofer and a tweeter for an immersive listening experience.
Overall, the JBL Club 6420 can be the best coaxial speaker in the market, which means it is worth considering if you need a reliable and powerful 4x6 speaker.
JBL FBA GTO6429 - Best Component Car Speakers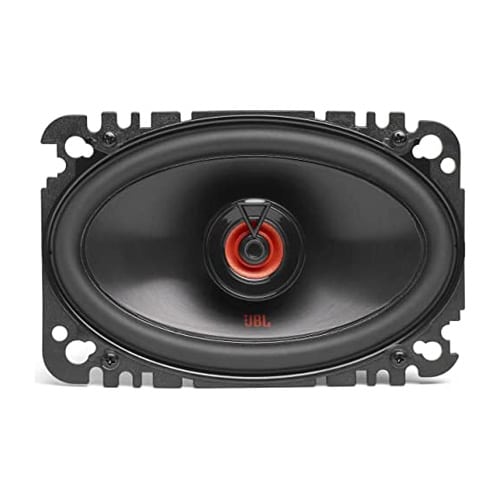 Pros
The model has good sound clarity and very low distortion.
A low impedance of 3 ohms makes the speaker easy to pair with other audio components.
It has a low resonance frequency and offers a good bass response. The carbon-injected woofer cone technology is durable and gives great sound quality.
Has a dedicated 12dB octave crossover for a smooth transition between tweeter and woofer.
Cons
The power handling is low at 50 watts RMS.
It can get a little pricey compared to other 4x6 speakers on the market.
No grills included.
This carbon-injected and non-pressed cone technology of the JBL FBA GTO6429 is sure to provide you with great sound quality. It has a frequency response range of 55 Hz to 21 kHz, so you can enjoy all the details in your favorite songs. The RMS power handling of 50 watts makes it powerful enough for most setups.
Overall, the JBL FBA GTO6429 is one of the best component car speakers out there and can be a great option for those looking for good sound quality with reliable power handling capacity.
Kicker 46CSC464 - Best Full Range Stereo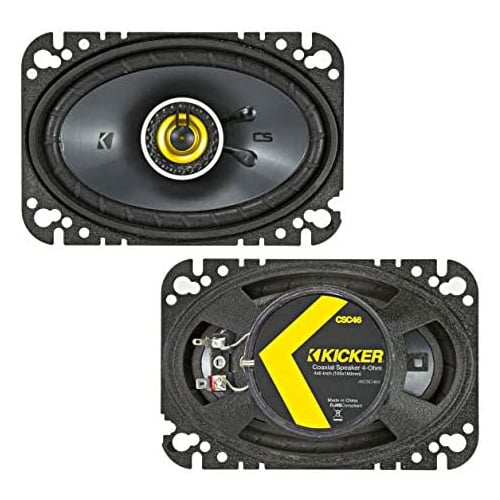 Pros
The power handling is quite good, with the peak power at 300 watts and RMS at 150 watts.
It has a frequency response range of 50 Hz to 20 kHz, which is great for listening to music or movies.
Versatile with many options for adding extra speakers.
The speaker is quite affordable for its features and sound quality.
Cons
This model lacks in the low-frequency range and bass response a bit.
No grills are included with the package, but you can add them for an additional cost.
The Kicker 46CSC464 is a great full-range stereo speaker and is an excellent choice for anyone looking for some banging sound. It has ultra bass and heavy-duty motor structures, which provides superior sound quality and clarity. It has Polypropylene cones with ribbed foam surround for added strength and durability. And it has precise acoustic control crossover networks for a smooth transition between tweeter and woofer.
Nevertheless, the Kicker 46CSC464 is actually a decent full-range stereo speaker that offers great value for money. It has good sound clarity and power-handling capabilities, so you can enjoy your favorite music and movies with ease.
Pyle - Best Tweeter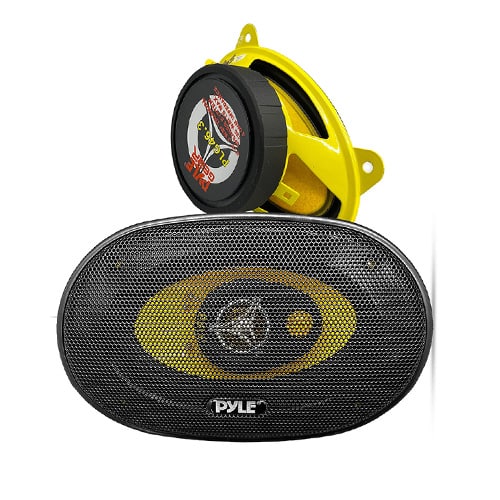 Pros
Fitted with nonfatiguing aluminum voice coil.
4-ohm impedance.
Wire mesh grills included.
3-way crossover network for the full round sound experience.
Cons
The response rate is a bit low for some frequencies.
The bass output is not as powerful as other models
Great fitting but not installation-friendly.
These speakers are made to offer the audio enthusiast with a limited budget the highest possible sound quality at an affordable price. These three-way speakers are 4" by 6" and have a total power output of 180 watts. They are equipped with a super film tweeter that produces crisp highs, a 0.5" neodymium dome that handles the midrange, and a high heat voice coil that fills out the low end. Your sound will remain undistorted and pristine thanks to the robust foundation provided by the yellow-colored poly-injected cone.
All in all, the Pyle is a great tweeter for those seeking good sound quality on a budget. Its combination of neodymium dome, super film tweeter, and high-heat voice coil makes it ideal for audiophiles who want to be able to experience every aspect of their music with clarity.
Pioneer TS-G4620S - Best Magnetic Fluid Speakers
Pros
4-ohm impedance for better compatibility with other audio components.
It has a power switch for easy volume adjustment.
With a ferrite magnet, the speaker produces more power and clear sound.
The rubber magnet cover on the back of the speaker basket prevents rattling.
Cons
Doesn't come with a built-in amplifier or connecting wires.
The sound quality is not as good as expected in high-volume situations.
It's quite expensive for its size and power rating.
The Pioneer TS-G4620S is one of the best magnetic fluid speakers on the market. This two-way speaker system produces powerful full-range sound with its 4" x 6" woofers and tweeters. It has a balanced dome tweeter that provides crisp highs and a polypropylene woofer cone for deep bass. The speaker also has a convenient input power switch that makes it easy to adjust the volume. It comes with a grille and mounting hardware, so you can easily install this system in your car.
The Pioneer TS-G4620S is a great choice for those looking for a reliable magnetic fluid speaker system. It has great sound quality and produces powerful bass that will give your car audio setup an amazing boost.
BOSS CH4630 Car Speakers - Best Powerful Audio System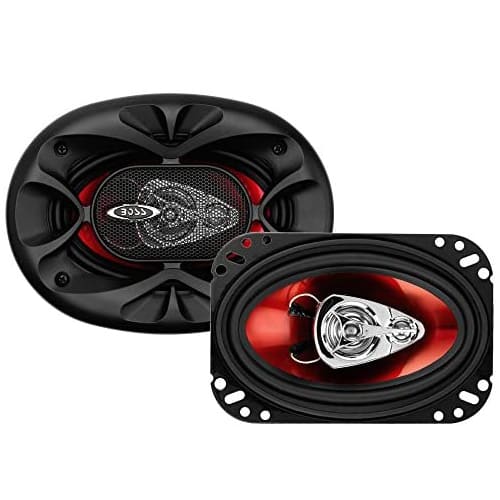 Pros
Materials made up of impermeable fiber and rubber.
Heavy-duty power handling that can reach up to 330 watts RMS.
The basket structure is stamped and provides rigid support.
Piezoelectric Tweeter for crystal clear highs.
Cons
The speakers take up a lot of space in the car.
Installation can be tricky due to its size and shape.
The BOSS CH4630 car speakers are the ideal choice for those looking for an ultra-powerful audio system. These 6" x 9" three-way full-range speakers feature a polypropylene-injected red cone and a PEI-balanced dome tweeter that produces crystal clear highs. It is capable of high temp and elevated power handling with its 4-ohm impedance and a power rating of up to 330 watts. With its large size, these speakers are capable of producing incredible sound pressure levels for an intense audio experience.
Looking for some serious power in your car audio setup? The BOSS CH4630 is the way to go. With its high-powered wattage, polypropylene cone, and Piezoelectric tweeter, you'll be able to fill your vehicle with a full-range sound that will blow your friends away.
What to pay attention to when choosing the best 4x6 speakers
After you decide on the type of speaker you want, there are a few more things to consider that will help you decide which is best for your needs.
Impedance

This is the measure of electrical resistance a speaker has when connected to an amplifier. The higher the impedance, the more power it will require from your audio setup. Additionally, a higher impedance means that the speaker will be less efficient, so it's important to make sure you get a speaker with an appropriate impedance for your system.

Peak Power

This is the maximum wattage a speaker can handle during short bursts of sound. If you listen to music or watch movies that have loud and dynamic sounds, then it's important to get a speaker with a higher peak power.

Quality

When it comes to audio quality, it's all about the components and materials that make up the speaker. Look for speakers that use high-quality woofers, tweeters, and crossover networks so that you can get the best sound possible. If you want an even higher-quality speaker, look for ones with built-in amplifiers so you can get more power out of your setup.

Mounting Compatibility

Make sure that the speakers you buy are compatible with your vehicle's mounting system. This will ensure that you can install the speakers properly and get optimal sound performance. It also helps to make sure the size and shape of the speaker will fit in your vehicle.

Frequency Range

The frequency range refers to the range of sounds that a speaker is capable of producing. A wider frequency range means that you can get more dynamic sound and better overall audio quality. Look for speakers with higher frequencies so you can hear all the details in your music.

Sensitivity

This is a measure of how well a speaker can convert power into sound. A higher sensitivity rating means that the speaker will be more efficient and will use less power to produce higher volume levels. So look for speakers with a higher sensitivity rating if you want to get more sound out of your setup.

Size and Shape

The size and shape of the speaker will determine how it fits into your vehicle and how well it produces sound in your space. Larger speakers are usually better for producing louder volumes, but they may not fit in your car, or they might take up too much space. Make sure to get a speaker that fits your vehicle and can provide the sound quality you're looking for.

Price

Now, pricing is always an important factor when choosing any product, and car speakers are no different. Make sure to shop around and compare prices so you can get the best deal possible. You should also make sure that the speaker you choose is of good quality and worth the price.
Tips for Buying and Using 4×6 Speakers
If you're looking for a good 4×6 speaker, there are some things to keep in mind:
Make sure that the power rating of your speakers is higher than what your amp can handle; this will ensure that the sound quality and volume remain consistent.
Additionally, make sure that the impedance of your speakers matches up with your amp's requirements.
Lastly, always follow the installation instructions for your speakers to ensure a safe and proper setup.
When using 4×6 speakers, try to avoid turning up the volume too much, as this can cause distortion and damage to the speaker cones.
We recommend keeping the volume at a comfortable level and adjusting the treble, mid, and bass settings accordingly.
FAQ
Is 2 way or 4-way speakers better?
It depends on what kind of sound you're looking for. Two-way speakers are best suited for basic background music, while four-way speakers are better for more complex sound setups. Additionally, four-way speakers will typically have better sound quality than two-way speakers.
Which is the No 1 brand in 4x6 speakers?
Some market staple names in the 4x6 speaker market are Rockford, Pioneer, JBL, and BOSS. All of these brands offer great quality speakers with a variety of features to choose from. They are known for their renowned sound quality, which makes them one of the top brands when it comes to 4x6 speakers.
Conclusion
Whether you are looking for a basic audio system or an ultra-powerful speaker setup, 4x6 speakers can provide the perfect solution. Remember to canvass for the best brands and features to make sure you get your money's worth. Consider looking into factors such as power handling, impedance, and sound quality when choosing a speaker set. With these tips in mind, you can easily find the best 4x6 speakers for your car audio setup! Good luck, and we hope you enjoy your car audio experience!